Deserted Cities
Here are some reflections on Planet Earth: 21st Century that are published at the occasion of the exhibition of Daniela Comani's work at Museum Folkwang in Essen. It is curated by Thomas Seelig and on display until June 11th, 2023.
A series of 360 cityscapes, which were produced as picture postcards, was published as photo atlas by Humboldt Books in Milan, in 2019. In the same year it was presented at the photo fair The Phair in Turin by Galleria Studio G7 together with a selection of 8 prints on PhotoRag.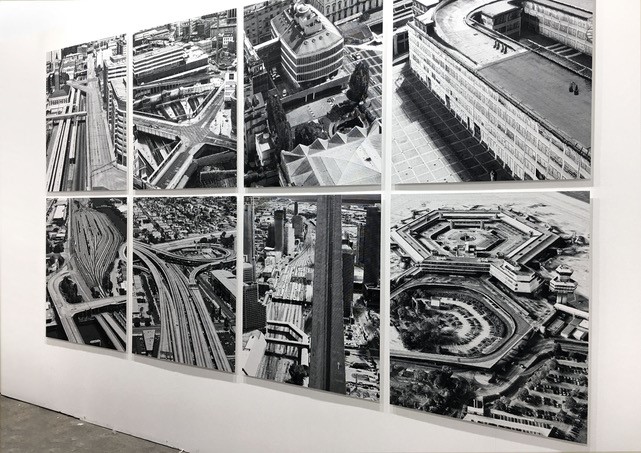 For every postcard on display, Comani used screenshots of the virtual cityscapes available on the Internet in 3D mode. Between 2015 and 2019 the artist consulted virtual arial views of the earth's surface by Google Earth and Apple Maps and took her own pictures on her virtual flights over cities and sites. Here you look for people in vain, which basically makes Comanis picture postcards stand out from the selfies of tourists who document their stay in front of famous buildings and urban ensembles.
Transfer pictures from 3D to analogue
Comani's views are deliberately sparse, which is not only due to the black-and-white reproduction, but also to the digitally recreated facades, which must be edited in order not to infringe the architects' copyrights. As an increasingly automated process of evaluating aerial photographs, surface rendering also includes plants and street furniture, which often makes facades and roofs of buildings appear as lumpy and scarred structures. The image processing programs interpret various disturbances caused by reflections and shadows, as well as vegetation and other extensions as if they had merged with buildings to form an object or even a building. The reproduction of excerpts in the print medium as postcard sharpens these results of the digital processes once again because the picture postcard ties in with existing viewing habits. Traditionally, postcards are regarded as authentic testimonies with which friends and relatives greet from their holidays. With their signature, they confirm the authenticity of the view of a city or landscape.
Picture postcard as a medium
In front of the eyes of spectators, who have experienced the cultural imprint of the postcard greeting, an alienation effect is created, which is caused by irregularities with which biological and urban life has solidified into a black-and-white image disturbance. The selected sections from a bird's eye view can be recognized, but in detail they appear crumpled or compressed in places, so that they make a brittle impression. By aesthetically radicalizing the models of the virtual cityscapes, the artist falls into an otherworldly transitional stage that evokes the impression that cities have been affected by ruptures in civilization such as wars, natural disasters, or other events.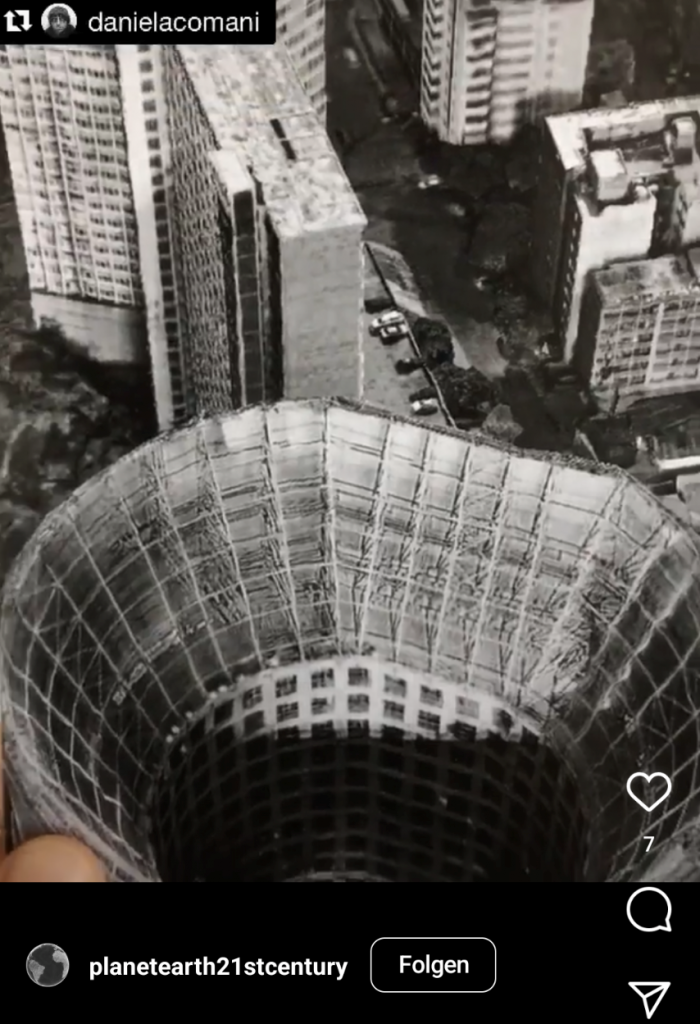 The absence of people is also reminiscent of the effect of neutron bombs, conceived at the end of the 20th century by weapons developers who modified nuclear bombs to make them manageable for eventual tactical uses. The detonation of a neutron bomb could eliminate humans and other beings without harming buildings and infrastructure. Therefore, it promised conquerors a warlike utopia – namely to play largely undestroyed areas into their hands.
Deserted Vehicles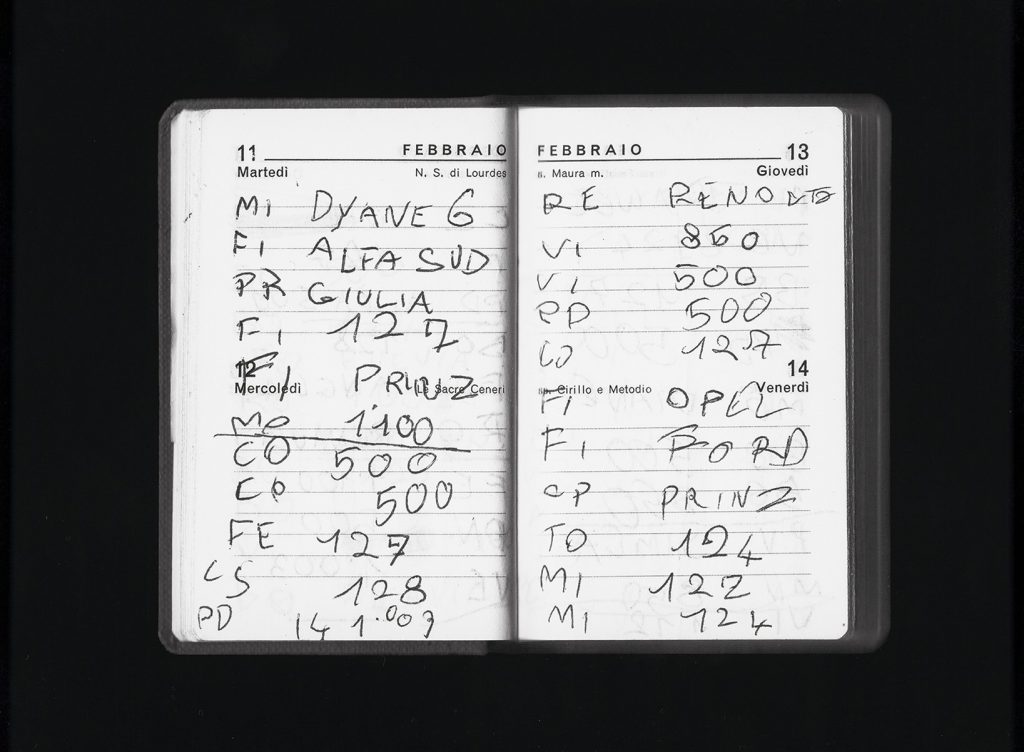 Daniela Comani, 1975 diario di strada, Archive Books 2017

Even as a child, Comani dealt with phenomena of a civilization that made people disappear behind a surface. On car journeys, she observed overtaking or overtaken cars and noted the cities or regions about which their license plates provided information in a pocket calendar. On some trips also the types of cars were noted. For 1975 diario di strada – an art project – the facsimile calendar of 1975 was included in a collection of black-and-white images of the vehicles of that time. They were taken from the advertising arsenal of car companies and were processed so that they look like a series from a single source on neutral gray font with only slight shadows under the vehicles. It was the artist's intervening hand that radically sharpened the artist's childhood impressions by processing the digital copies. In this way, a decisive momentum of travel memories on motorways becomes evident. The passengers of the cars, which either do not appear due to reflective windows or due to the short-term encounter, disappear. Their rudimentary appearance can be neglected. They are completely absent from the illustrations. Only an anecdote reminds us of the boredom of the child and the passengers in the other vehicles. The schoolgirl Daniela occasionally stuck out her tongue through the back window of her parents' car to the passengers driving behind.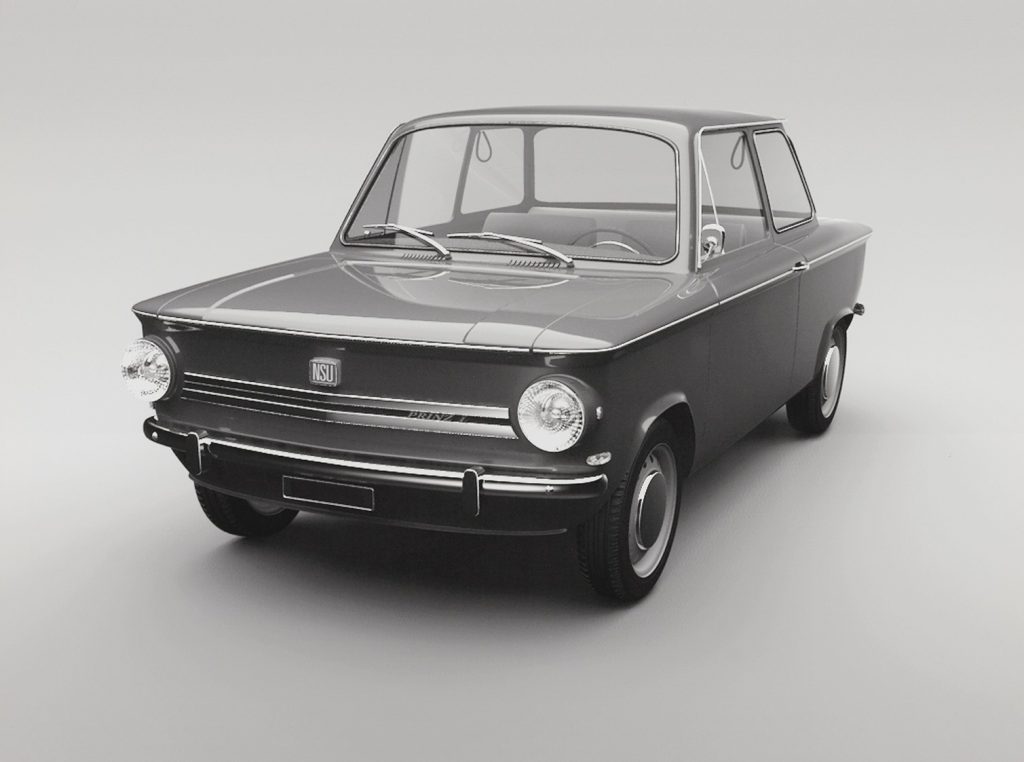 Comani's work emerges a world subject to design, which is idealized by the tendency to make people disappear behind facades and sheet metal. The result is images of utilitarianism, which today is taking on increasingly rigorous appearances through algorithms and automatisms such as driverless vehicles and tinted and mirrored windows.
(c) Johannes Lothar Schröder